My Blog
Posts for: October, 2017
By Repscher Dental
October 28, 2017
Accidents can happen to your mouth, especially if you have an active lifestyle. For example, a sudden blow to the jaw while playing sports or exercising could result in a chipped tooth. And, while the internal tooth structure may be fine, the effect on your appearance can be disheartening.
Fortunately, we have techniques and materials to restore your smile after an injury. Bonding with composite resin is one such procedure: it's ideal for mild to moderate chipping, especially in highly visible front teeth.
Composite resin is a dental material made of various substances mixed to match the color and texture of natural teeth. The composite is usually made of inorganic glass filler blended with a plastic-based matrix and joined together with a chemical "coupling" agent. The ratio of filler to matrix will depend on the type of tooth and damage — for example, back teeth, which encounter higher biting forces, require a composite with more filler for added strength.
To begin the procedure, we first prepare the damaged tooth by applying microscopic etchings (often with a chemical solution) that create tiny depressions or "undercuts": these help create a seamless bond between the composite and the natural tooth. We then apply the composite in layers with a bonding agent, building up layer upon layer until we've achieved the desired shape for the tooth involved.
Bonding with composite resins doesn't require much tooth preparation, can be placed quickly and is relatively inexpensive. Because of the wide spectrum of color possibilities, composite resins are superior to traditional amalgam (metal) restorations in creating a more life-like appearance. Its application, however, can be limited by the amount of tooth structure needing to be replaced: because it isn't as strong as the tooth structure it replaces, the more tooth structure the bonded composite resin attempts to replace the less likely it can stand up over time to normal bite forces.
Still, composite resins are ideal for mild to moderate damage or disfigurement. If you've suffered such an injury, be sure to visit us to see if bonding with life-like composites is the right solution for restoring your smile.
If you would like more information on bonding with composite resins, please contact us or schedule an appointment for a consultation. You can also learn more about this topic by reading the Dear Doctor magazine article "Repairing Chipped Teeth."
By Repscher Dental
October 13, 2017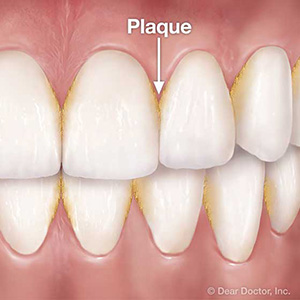 The American Dental Hygiene Association has designated October as National Dental Hygiene Month. Good dental hygiene is the best weapon against your mouth's number one enemy: dental plaque.
Plaque, a sticky biofilm that forms on your teeth, is an accumulation of bacteria, other microorganisms, food debris, and other unpleasant components. It can make your teeth feel fuzzy or slimy. And worse, the bacteria in plaque can lead to tooth decay and gum disease.
The best way to keep plaque at bay is by brushing your teeth twice a day and flossing once a day. But even though you can remove much of the plaque in your mouth with a toothbrush and dental floss, there are nooks and crannies that are hard to access with these basic oral hygiene tools.
Staying on top of dental plaque is an ongoing challenge. Immediately after teeth are cleaned, plaque starts to form again. And the longer plaque stays on teeth, the thicker it grows. Minerals in saliva become incorporated into the biofilm. As plaque takes on more minerals, it becomes calcified. This is when it hardens into calculus, or tartar. At this stage, tooth-brushing and flossing cannot disrupt the hardened layer of buildup, sometimes visible as yellow or brown deposits around the gum line.
This is why it's important to schedule regular professional dental cleanings. At the dental office, we have special tools to remove tartar and get at those hard-to-reach places that your toothbrush and floss may have missed. If you have questions about dental hygiene, plaque control or another oral health issue, we are happy to talk with you. We are your partners in fighting plaque for a bright, healthy smile!
Read more about the topic in the Dear Doctor magazine article "Plaque Disclosing Agents."