My Blog
Posts for tag: dental implant
By Repscher Dental
October 09, 2020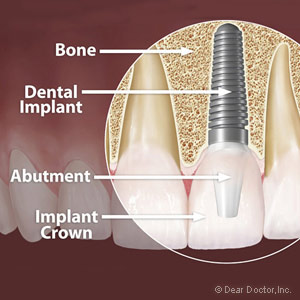 What happens when you lose a tooth? In the short-run, it can certainly undermine your appearance and ability to efficiently chew and digest food. But a chain of events could also be set in motion that may cause the most harm to your appearance and health—and it all has to do with bone loss.
Our bones aren't just rigid structures providing a frame for our bodies. They're living tissue with other purposes like producing blood cells and regulating the endocrine system. Bone tissue is constantly replenishing itself as older cells die and newer ones take their place.
In the jawbone, the pressure generated by the teeth while biting and chewing travels through the roots to stimulate the growth of new bone. If a tooth goes missing, however, the bone around the tooth also loses this growth stimulus.
This can cause normal bone growth to slow so that dying bone cells aren't sufficiently replaced. The bone may then diminish at an alarming rate—a decrease in width of about 25% in the first year after a tooth loss and several millimeters in height after only a few years.
This bone loss can continue to advance, especially if multiple teeth are lost, until the jaw structure as a whole loses significant height. The bite may then collapse, forcing the front teeth to push forward. In this state, a person may not be able to adequately bite or chew food. It can also damage their appearance—their smile suffers, of course, but their entire face may also appear shrunken.
You may be able to avoid this scenario if you replace missing teeth with dental implants. In addition to their life-likeness and durability, implants can also stop or slow bone loss. This is because titanium, the principle metal used in an implant, has a strong affinity with bone: Bone cells readily grow and attach to the titanium surface and foster new growth.
But don't wait: Bone loss could eventually extend beyond what an implant can accommodate—you may then need grafting to build up the bone or consider a different type of restoration. So, speak with your dentist as soon as possible about an implant restoration for a lost tooth to help avoid significant bone loss.
If you would like more information on how tooth loss can affect your life, please contact us or schedule an appointment for a consultation. You can also learn more about this topic by reading the Dear Doctor magazine article "The Hidden Consequences of Losing Teeth."
By Repscher Dental
June 27, 2019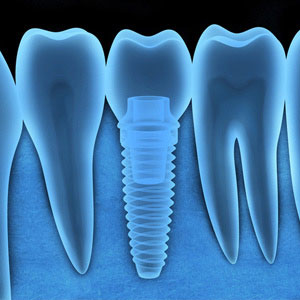 If you know anyone with a dental implant, you may know it can be a long process in getting one. Several weeks or months can pass between removing the old tooth and placing the implant, and then several more weeks before affixing the permanent crown.
But with recent advances in implant technology, some patients don't have to wait as long for a new implant and crown. In fact, one procedure commonly known as "tooth in one day," allows patients to walk in with a problem tooth and out the same day with a new "one."
Not every implant patient, however, can undergo this accelerated procedure. If you're considering implants, the state of your bone health will determine whether or not you can.
Implants need a certain amount of available bone for proper placement. But bone loss, a common consequence of missing teeth or dental disease, can reduce bone volume to less than what's needed to place an implant. The patient may first need to undergo grafting to regenerate the bone or choose another restorative option.
If your supporting bone is sound, your dentist might then proceed with the implant. But you will still have to wait a while for your new crown. The implant needs to integrate with the bone to improve its hold. This integration process can take anywhere from a minimum of six weeks to more commonly twelve weeks. After the attachment is mature, the dentist may need to undo the gum covering before taking impressions for the formation of the new crown.
But it is possible to have a tooth or teeth in a day. For a single tooth, your dentist may be able to immediately attach a crown right after implant surgery if the implant is very stable. Even so, this crown will need to be temporary, slightly shorter than a permanent crown so that it won't make contact with other teeth and put too much pressure on the new implant. After further healing from bone integration, impressions will be taken so that you'll receive your permanent crown shortly.
Immediate crown placement can allow you to have the cosmetic and limited functional benefit of a new tooth right from the start. If multiple implants are placed in one arch in a day, it's possible to have immediate teeth if enough implants are attached together with a temporary restoration.
This is different from a single implant replacing a single tooth and does create confusion for patients when they read about teeth in a day. Regardless, no final tooth crown can be placed at the time of an implant—only a temporary restoration.
If you would like more information on your options for dental implants, please contact us or schedule an appointment for a consultation. You can also learn more about this topic by reading the Dear Doctor magazine article "Same-Day Tooth Replacement with Dental Implants."